Because of the pride we take in our work!

2019 Best of San Jose Awards - Telecommunications Service Provider

An offer too good to pass up.
If you've been waiting to switch to VoIP Internet telephone service for your business to save money, this is the time to do it. Hosted on an Epygi® Cloud PBX, at just $10.00/seat, minimum 5 seats, using an IP telephone, we have nationwide calling plans that are billed at $0.005 a minute for inbound calls and $0.00833 per minute for outbound calls. Even if you currently use SIP, you may be able to reduce your bill even more using our services. Premise systems are another way to take advantage of the savings VoIP or SIP trunks provide. Compare and save! Click here for more details.
Who We Are
Allred Communications has been providing sales, installation and service of many brands of telephone systems in Silicon Valley and the Bay Area since 1984. Now, we also service the Visalia, California area.
We have gained extensive experience working on Avaya®, Comdial®, Nortel-Norstar® & Toshiba® systems and have partnered with Epygi®, Vertical Communications® and IPitomy® to provide the necessary tools for small and medium size companies to connect with their customers.
We do more than just offer telephone system products. We also work with our customers to help them customize and understand how the many features modern systems offer, ensures their returning customers and their potential customers reach the proper individual with the least amount of effort.
Let us use our years of experience to design a system for you, whether using traditional telephone lines, or how savings can be realized by using VoIP technology.
A hosted solution may be right for your company. Look at our Epygi® and IPitomy® pages for more information.
What We Do
There are many factors that need to be considered when installing a phone system or computer network. When replacing a system in your office or moving to a new building, the existing cabling infrastructure needs evaluation to make certain your LAN will support the requirements current and future technology demands.
Sometimes that involves using fiber optic capabilities or installing the "latest category" copper LAN cable. This includes making sure the type of cable meets building code requirements for plenum in air handling spaces.
Your office may need access points for WiFi or cameras for video surveillance. You may have a need for an external paging system in a warehouse or outdoors.
You may have branch offices that can benefit from a networked phone system or telecommuters.
We don't just install or move systems. You may only need a phone moved, a cable run or some simple programming like changing which phones ring. We can do that for you as well.
We are experts at providing these types of services and solutions. Our individual and personalized attention to your business is what we excel at and what you can expect from being an Allred Communications customer.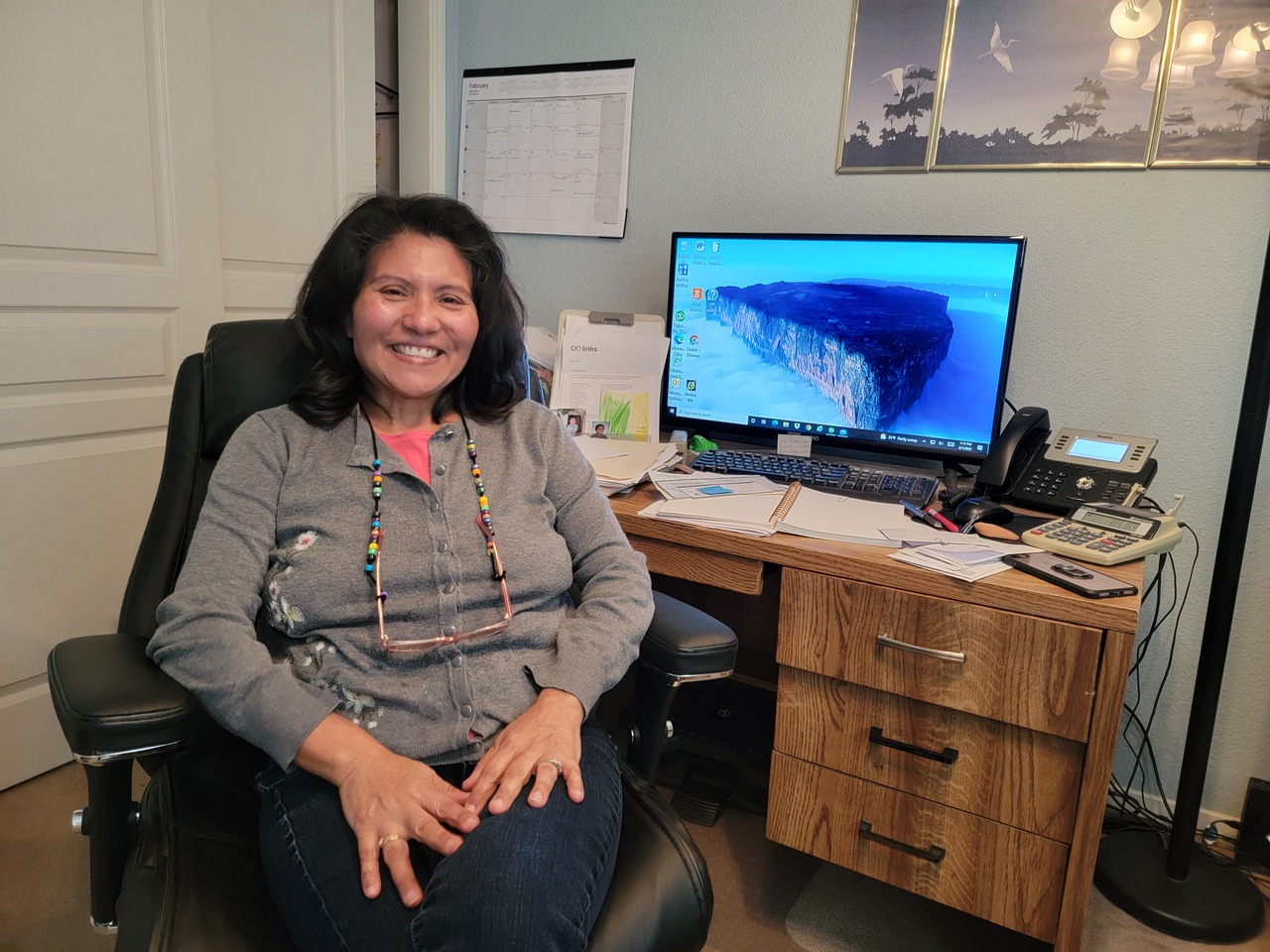 Adelina Allred at work - ready to answer your billing questions.

Over the years we have provided service to all levels of government, including the United States Departments of Agriculture & Forestry, Social Security Administration, California State Board of Equalization and the Cities of San Mateo & Burlingame. Our systems have worked well in all types of professional offices; medical, legal, real estate, CPA's & insurance brokers. You may have called our phones in businesses at car dealerships, pest control companies, psychic readers, financial advisers, technology companies and many more. We've installed cabling including fiber for hospitals, cell towers, fire departments, police departments, libraries, churches and senior citizen's facilities, just to name a few.
Dave Allred - Heading to the next job!
Put me to work for you.