EnGenius® Point to Point Antennas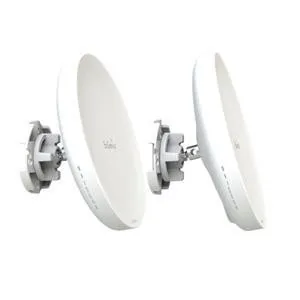 Enstation5-AC Kit $219.00
EnGenius EnTurbo™ EnStation5-AC enhanced Outdoor 11ac Wave 2, Wireless AC867 Client Bridge/AP delivers high bandwidth over extended distances with reduced interference for point-to-point or point-to-multipoint connectivity. Powerful onboard quad-core processors combine with new 11ac technology to maximize speed and support greater device capacity and connection reliability. EnStation5-AC delivers next generation, business-class Wi-Fi at exceptional pricing.
EnStation5-AC extends the wireless network across large campuses, over vast acreage in parks and recreational facilities, parking lots, city blocks, and industrial, farming and ranching properties; in sizeable indoor structures like arenas, shopping malls, warehouses and convention centers and in other challenging settings.
Turbocharged Wireless Speeds
Reaching speeds to 867 Mbps on the 5 GHz frequency band, the EnStation5-AC's powerful Qualcomm® 717 MHz quad-core processor turbocharges high speed wireless over long distances with up to 30 percent faster throughput compared to 11ac Wave 1 3x3 access points.
Next Generation Wi-Fi
The feature-rich EnStation5-AC AP leverages the advanced 11ac Wave 2 Wi-Fi technology that maximizes wireless speed and performance while eliminating network lag. When used in AP mode, EnStation5-AC offers greater user capacities via dedicated multi-user, MU-MIMO connections and optimal signal reliability through Beamforming Antenna technology.
Support a Variety of Outdoor Applications
Provide broad-reaching high-speed Wi-Fi access to user devices in various outdoor settings. Utilize bridges in commercial or residential applications where cabling is not possible or practical and eliminate the cost of trenching and running cable. Connect a secondary device such as an IP surveillance camera or access point for greater deployment flexibility.
Optimal Bandwidth Over Longer-Ranges
Accommodate 4k Ultra HD (UHD) video and heavy multi-application traffic services with extended bandwidth over long ranges. EnStation5-AC supports a wider channel range (20 MHz, 40 MHz and/or 80 MHz), allowing network managers to fine tune channel usage based on their application needs.
Going the Distance
High output power and high receive sensitivity, coupled with embedded 19 dBi high-gain directional antennas that emit a narrow signal beam to deliver stable connectivity, optimal bandwidth and high-speed data rates over extremely long distances – up to 5 miles in clear, line of sight pt.-to-pt. deployments.
Gigabit Ethernet PoE Port Supports Flexible Power Options
Connect and power the EnStation5-AC AP via its dual-PoE Gigabit port for discrete placement in locations where power outlets are limited or unavailable such as on roofs, poles or other remote areas. Power the AP via the included Power-over-Ethernet injector or use EnGenius converter (EPD-4824) convert its 24V proprietary PoE for use with an EnGenius Managed Gigabit PoE+ Switch up to 328 feet from a power source.
Flexible Operation & Configuration Options
Access Point, Client Bridge, and WDS mode configurations broaden the EnStation5-AC's adaptability to your network needs. With three operation modes, these flexible devices offer versatility in point-to-point or point-to-multipoint deployments.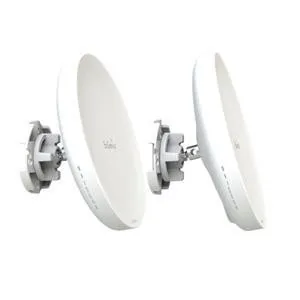 N-Enstation5-AC Kit $285.00
(2) 5 GHz High-Powered, Long-Distance 11AC Wireless Outdoor AP/Client Bridges offering dual-PoE ports and high-gain directional antennas that emit a narrow signal beam for limited interference, ensuring stable connectivity, high-bandwidth and 867 Mbps speeds over extremely long distances, extending the network up to 5 miles point-to-point.

Technical Specifications
IEEE 802.11a/n/ac
Internal antenna (1) 19 dBi 5 GHz High-Gain Directional
(1) 10/100/1000 Mbps Port Supports 802.3at/af Proprietary 48V~ 54V PoE Input
(1) 10/100/1000 Mbps Port Supports 802.3af/PSE Output
LED Indicators 1 x Power, 1 x LAN 1, 1 x LAN 2, 1 x WLAN
(PoE Adapter): 802.3at/~54V, Active Ethernet (Power-over-Ethernet, PoE)
Power Consumption 23.4W
Operation Modes: Access Point, Client Bridge, WDS modes
Transmit Power 26 dBm