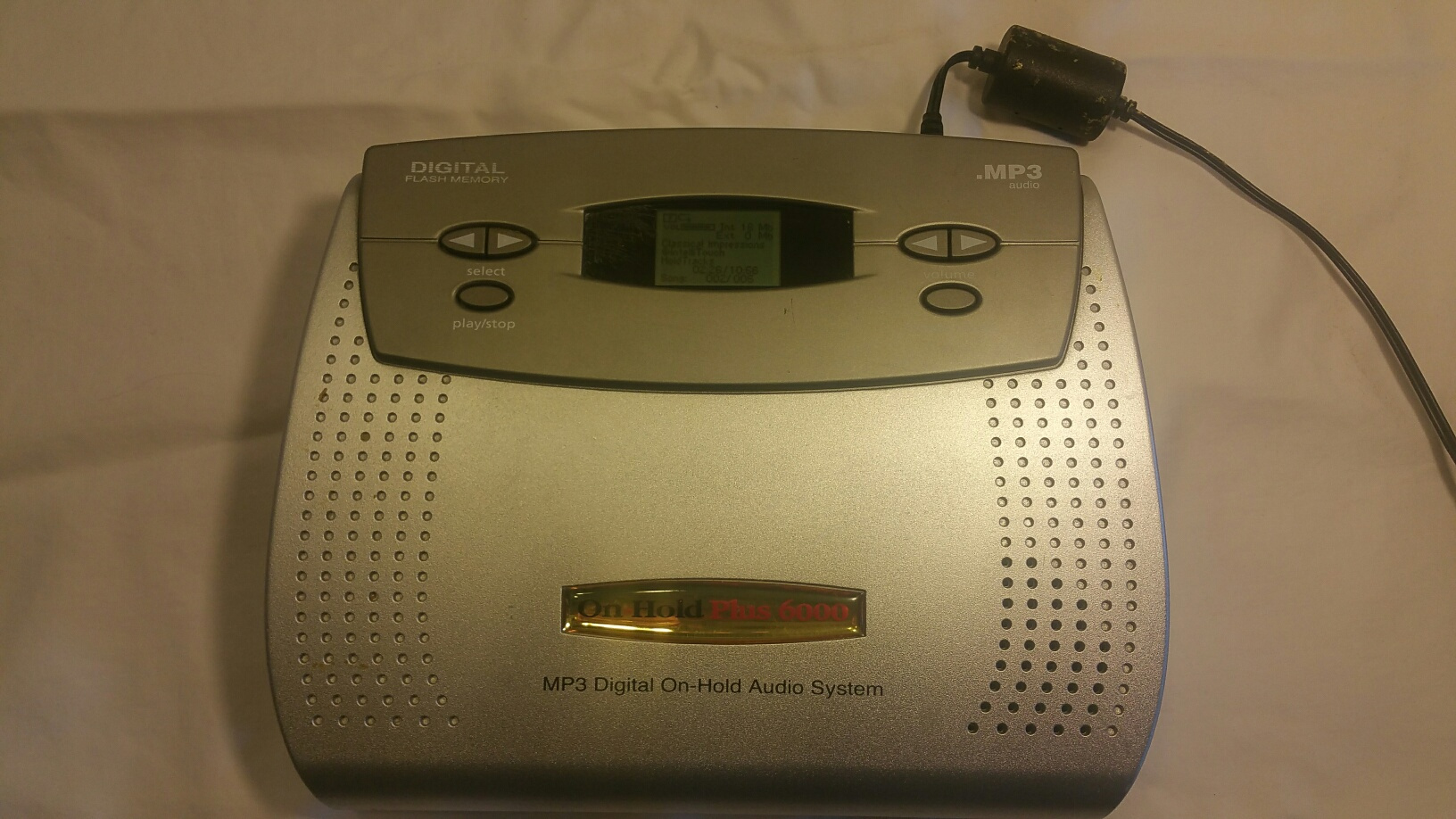 On Hold Plus 6000 MP3 Digital On Hold Audio System comes with a
perpetual license for unlimited use, on a single telephone system, of the
music content contained on the provided content which was recorded into the playback unit at the factory.
NO ADDITIONAL ROYALTIES ARE DUE TO IntelliTouch OR ANY OTHER THIRD-PARTY MUSIC LICENSING AGENCY.
Should a third-party music licensing agency such as ASCAP or BMI attempt to collect royalties based on your usage of the music contained on this system, the license agreement provided is your proof of
perpetual license.
Features
MP3/WMA file playback - Plays ordinary MP3 and WMA files. USB connectivity - Update content by connecting the 6000 to a PC and transferring MP3 or WMA files to its on-board flash memory. On-Board Memory - unit comes with 16MB of on-board memory and is preloaded with over 55 minutes of music content in a variety of styles. Choose to repeat one or all tracks. Digital flash memory - on-board memory retains music/message content even during power loss...unit ships with preloaded audio. Unit automatically starts in playback mode and retains track and volume settings after power loss. SD memory card slot - upgrade the 6000's memory to up to 1GB (over 70 hours) by adding a Secure Digital Card (SD). Update content by transferring files from the PC to the SD card via a USB card reader (not supplied). High Quality Playback - Player supports best CD quality playback up to 44kHz sampling rate at up to 192KBPS bit rate. 3 Repeat Options- unit supports repeat all, repeat all-shuffle and repeat one track functions. Backlit LCD Control Panel - 6-line backlit LCD panel displays ID3 tags with descriptive names of tracks for easy identification and selection. Display also shows a variety of important information so user can choose playback preferences and easily determine unit's operational status. Built-In Monitor Speaker - allows user to monitor sound with the flip of a switch. Wall Mountable - unit can play while mounted in a vertical position.

$20.00 plus shipping - 90 Day Warranty - Call or E-Mail To Order

Sales tax will be charged for California buyers.
Condition: Used with some cosmetic damage (scratches on side of display lens)
If you choose to use your own music source, whether radio, CD's or other sources, you can get a license for certain music from BMI.com. The link below is their form that explains pricing and conditions. It can be submitted to them to obtain a license.